I've been busy reviewing Yururi's new Rupas and Tour wedges and all the while a new putter they sent me was also sitting patiently in the corner for me to test. Yururi's new putter is simply called Nantetsu which means Forged Mild Carbon Steel. Nantetsu is made for premium soft feel. It has a classic pin/blade putter shape with rounded bumpers and heel along with a rounded multi level sole.
Shark Face...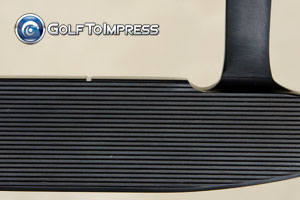 The Yururi Nantetsu features what they call the Shark Face... horizontally cnc milled lines which are rather sharp to a point that promote soft feel due to less contact area and forward roll on the ball. The idea is not unlike what we've seen with G-Field and Gold's Factory's Premium Zone milling or Rife's Roll Groove Technology.  While the designs of all these millings vary slightly ie groove depth, groove shapes and distance, the idea is similar. Create consistent roll with minimal skidding. The Nantetsu does that long with soft forged feel.

Clean looks...
The Yururi Nantetsu is a very clean looking putter. It is unplated and finished in a flat black finish. The Yururi logo is in the back cavity and on the sole.  The sight line is a single line on the top blade keeping for a very clean look.
Relatively heavy head...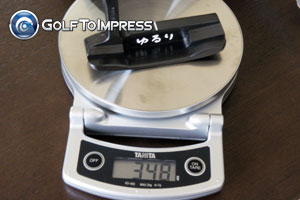 The Nantetsu features heavier head weights varying from around 345 to 350g depending on the length (33 to 34") of the putter. This gives a nice swing weight of around D1-D3 which is not too heavy or not too light meaning it's an all around putter than can be used on both faster and slower greens.  I received just the head so that I could check its weight first which came out at 348g. I shafted it up at 33.5" along with a sky blue standard Iomic grip which came out at D3 swing weight.
Nice setup...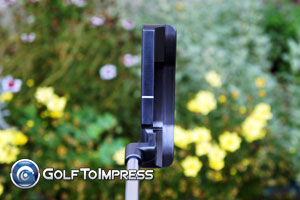 I really like the way the putter sets up. I do like black colored putters, there is no glare from the Nantetsu and it's very clean looking at address.  The small sight line and flange and bumpers frame the ball well. Feel is as expected from a soft forged putter and that is very soft.  The Nantetsu is all about feel. Some who prefer a crisper harder feel may not like the very soft feel of the Nantetsu.  The shark face does its job in giving the ball instant roll and does also adds to the softness at impact. Overall a great looking putter with very soft feel and very good roll. I've put it in the bag and I can't wait to try it out on the course!