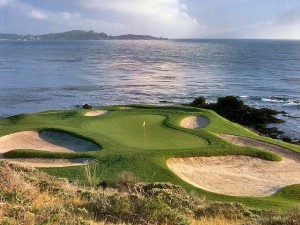 Watching the final round of the PGA Championships today I was struck by one thing:  Just how much I'd love to be able to play some of the courses that the pro's get to play.  It's no secret that they get to play on the most beautiful, exclusive, expensive and impressive golf courses in the United States and the rest of the world, but what IS a bit unknown, is that some of the best golf courses, you can actually play.  Yes, you, the amateur, the hack, the weekend-warrior.
We Have Access To Greatness
That's right, there are some gems scattered around the globe, some hidden but some not, that everyone, everywhere can play.  They lack the exclusive country club nature, they lack the membership rules and some even lack the huge expenses that many courses have.  All this combines to mean they are public and YOU can play them, assuming you're good enough, that is.  So, saying this, what are the best courses in the world that we can actually get our amateur sticks out on?  Glad you asked as I just found a great report from the Weather Channel, of all places, that did a spot-on job of picking 10 courses that we can play, right now if we wish.
The Top 10 Courses You Can Play
Without further ado, here are the Top 10 Courses You Can Play:
Pebble Beach
The Old Course at St. Andrews
Royal County Down
Bandon Dunes
Kiawah Island
Cape Kidnappers
Straits Course at Whistling Straits
Ballybunion (Old)
TPC at Sawgrass
Kapalua (Plantation)
See, with names like Pebble Beach, St. Andrews and TPC Sawgrass there really is no arguing that while the PGA professionals do get the pick of the litter for best courses to play on, we can actually play on some of those very same courses ourselves.  No use getting jealous and upset when we can actually play on the very same courses that some of golf's most exciting finishes ever have taken place.
Get Out There!
Get out there, play some of these amazing courses, take photos and send them to us!  After all, we want to see the amateurs standing where the pro's usually do!
Related Posts
The Monterey Peninsula offers the most spectacular golfing I have ever experienced. I was pinching myself the whole time I was there just to make sure I was not dreaming. The Monterey region offers the best golf courses in the world! I just got back from the golf wonderland and must say this was the best golf vacation i have ever had! See the courses for yourself: Map of Monterey Peninsula Golf Courses http://www.MontereyPeninsulaGolf.com
Great courses, there's a few more to add like Royal Dornoch, Muirfield, Pinnacle Point, European Club, they're all on Forelinksters.com