Firstly my apologies for not blogging for a while. Its been a busy time here at TSG, with the golf season in full swing and lots of exciting developments underway. I have been lucky enough over the past few weeks to be able to attend practice sessions of a couple of LPGA events here in Japan.  For the average golfer, the ladies tour here in Japan is a showcase of what is hot and mainstream in the men's golfing world. Yes in the men's golfing world. Reason is the largest segment of golfers here in Japan is the average golfer, and most of us cannot dare compare ourselves to the men's tour and the equipment that is played there. However, the LPGA in Japan is very representative of the highest tech men's midcapper to better player clubs available today. You'll see VG3 Forged, ONOFF Red, XXIO, Tourstage ViQ Forged etc and many other models that you would never see on the men's tour.  One of the most common trends was the presence  of Taylormade Japan's Gloire  Forged Driver.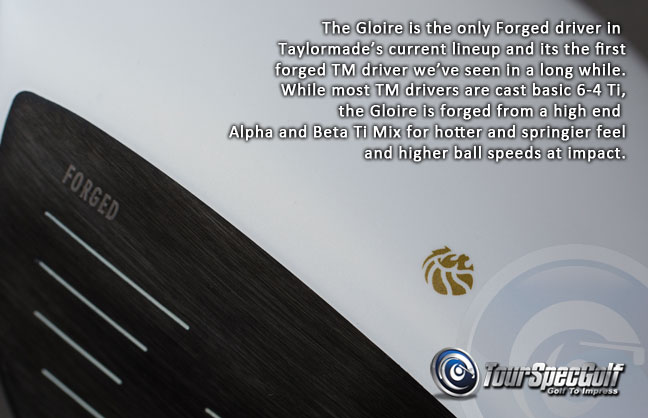 A year ago before the Gloire came out, it would have been all R11 drivers on the ladies tour however, almost every TM Japan pro or any pro using a TM driver was hitting the Gloire Forged. Now lets be clear, Taylormade is a marketing machine. No doubt they are one of the most popular brands in Japan and they know how to cater and market to the Japanese golfer with Japan only models and boasts of the greatest technology and performance. As much as many of us spite TM for their constant roll outs of new products which seemed to be hashed one upon the next, golfers swallow it up and welcome the new products with open arms. Japanese golfers love Taylormade and when they see the top TM pros using Gloire, they go out and get Gloire.  So what is this Gloire driver all about?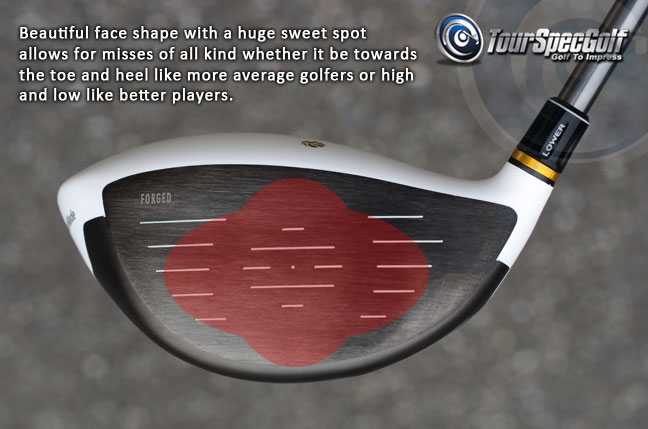 The Gloire line is all about premium materials to provide maximum performance and enjoyment of the game of golf.  The Gloire is an all forged Alpha Beta Titanium mix unlike all other Taylormade drivers which are cast from lesser 6-4 Ti. The Alpha Beta Ti mix is meant to provide a softer more premium feel equaling a springier face and faster ball speeds (The Gloire is of course conforming).  It utilizes a chemically milled variable thickness dimple crown. The face features TM's patented inverted cone technology 2 for creating a bit sweet spot which the Gloire certainly has. TM claims the Gloire's face produces maximum energy transfer that is 120% better than any other TM driver.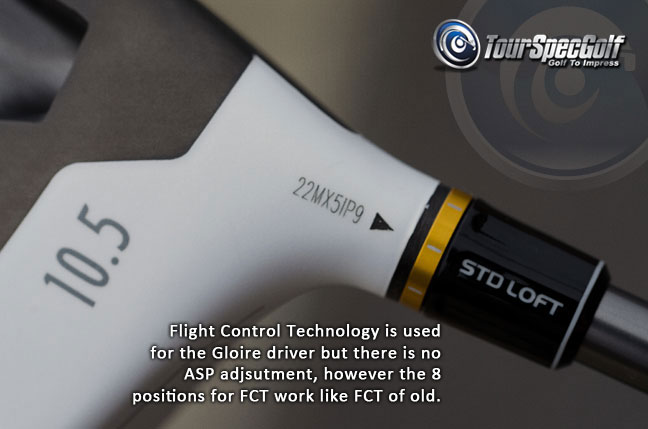 Like all TM drivers in the past couple of years, the Gloire features FCT or flight control technology with 8 different head positions which control bias and loft of the head. This paired with the Gloire's tapered back head and tunsten weighting equal a strong and high launch designed for maximum carry and lower spin for more run.  The internals of the head are also fine tuned with what TM calls Sound Ribs which resonates a powerful higher pitched impact sound (which some may or may not like).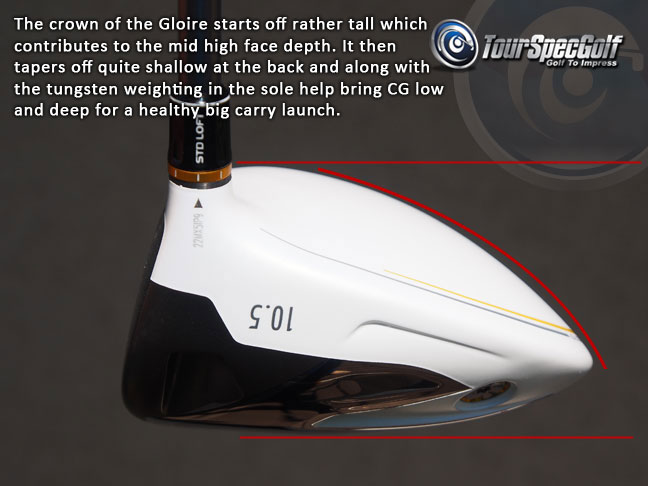 The white head sets up quite well and even though the standard spec of this 10.5* Gloire tester is 1.0* closed, it did not look that way at impact. I must admit, over the years I am getting used to the white head and like the way it frames a ball (especially a red one!).  The Gloire certainly sets up well at address and provides the player a lot of confidence looking down.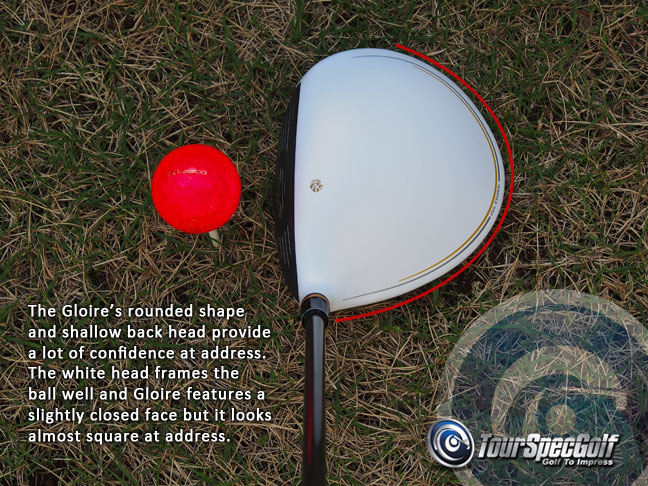 As for performance, the Gloire is available in two different shaft configurations a 40 gram range shaft at 46.5" and a 50 gram range shaft at 46" and I think its the first time TM is using a Nanoalloy shaft as their stock shaft.  With the longer length, and the Gloire's ultra light weight (the lightest 46.5" spec is 280g), this driver is meant to swing easy and generate more swing speed and more overall distance. I had the GL550 shaft which is the 50g range shaft at 46". The length I have to say was manageable even though I am a proponent of shorter lengths for more consistent ball striking.  The stock shaft and its 4.8* of torque has a lot of feel and is easy to load and release to square up to the ball.  Timing is rather consistent and yes impact is quite high pitched and loud especially when you hit dead center. Many of the better player forged drivers today are designed with much thicker sweet spots which mute impact and soften feel but for slower swingers and average golfers that can equal less feel. The forged but thin face of the Gloire is quite hot and the ball jumps off the face of the driver.  Launch is a little on the high side so I adjusted the driver down to 9.5* which produced a strong trajectory with ample run.
The head is draw biased and spec'ed closed which results in a nice soft draw or straight ball. Slicers may have good success with this club if they are not slicing due to being aggressive.  I prefer the feel of the Gloire over both the R11s and RBZ drivers. Its louder, more crisp and much lighter weight. (though the Japan model RBZ is only slightly heavier) I played the driver for 9 holes and swinging nice and smoothly was in the fairway every time with distances at least as good as my conforming Ryoma (maybe). For Taylormade fans and average golfers who want a premium forged driver that has adjustability and and is easy to swing, the Gloire is a great choice albeit more pricey that pretty much any other TM offering.  Is it worth it? For some it very well may be.   You can find the driver in the pro shop here.
And Taylormade Japan's Gloire Promo video is here (it is in Japanese):