Shipping , Returns and Product Warranty:
Shipping information:
We ship Worldwide!!
The majority of our products will be shipped directly from Japan using EMS Express Mail Services and delivered by your postal service.  EMS provides fast, reliable shipment all tracked and insured with a delivery time of 2-4 days.  All shipments are tracked and insured with a 100% guarantee that your item will arrive.
* We are able to ship using private shipping companies for an additional charge upon the customer's request.
Please note that occasionally your order may be broken into more than one shipment depending on stock. It may also ship from more than one location depending on which of our offices have stock on the items you ordered. You will NOT incur any additional shipping charges if this happens.
Please note that sometimes your shipment may be held by customs for inspection which may delay the shipment. These kind of delays are out of our control and we ask that you contact your local customs office or post office for details.
Any shipment that is denied or returned to us as unclaimed will be considered a RETURN and be subject to our Return Policy below.
Purchasing Import golf clubs:
We ONLY sell authentic products.
Please understand that Japanese golf equipment is a luxury product.  Master craftsmen produce and/or assemble your order to the highest standard.  They are not delivered as quickly as the USA brands due to Japan's higher standards and careful handling of these high-end products.
Be careful of fakes:  We have received many reports of stores online selling fake and copy cat clubs trying to pass them off for the real thing. If the price is too good to be true, it usually is. TSG clubs are 100% authentic and we stand by them 100% as authentic clubs. We get all our clubs directly from the Manufacturers in Japan and ship to you directly from Japan, NOT from China or some other Asian country. For more information on how to avoid purchasing non authentic clubs please read this blog post we made.
Payment policy:  We always receive payment at the time the order is placed. All prices are in United States Dollars (USD).
Processing time:  Most of our products ship within 2 - 5 business days.  Certain brands & accessories take longer due to popularity or low stock and can take up to 2 weeks to ship.  Custom orders and/or special orders take approximately 2 - 6 weeks to ship.
Tracking of order:  Customers will receive all shipping and tracking details by email.  You will be provided everything you need to track your order shortly after it ships. All taxes and applicable duties are the responsibility of the purchaser.
Taxes and Customs:  We does not charge taxes. We only charge for shipping cost. Every country has its own import and tax laws and sometimes customers get charged tax for their shipments. TSG is not responsible for any customs fees or taxes levied on your purchases. Those charges are the responsibility of the customer and are charges from their local government not TSG. If you have questions about taxes and customs please contact your local tax office in your country.
Returns & Refunds:
EXCLUSIONS:  Refunds are NOT available on special orders, custom club or orders with custom specifications.  We suggest you make sure the item desired is exactly what you want to avoid refunds.  Golf Shoes and apparel/clothing are considered a custom order and cannot be exchanged or refunded.  They are ordered specifically for the customer.  Customers should ensure they know what size they are before ordering.  If you need advice about size, please don't hesitate to email us.
Order cancellation:  We have no problem in issuing you a full refund as long the item(s) has not yet been shipped.  (This does not apply to custom golf clubs or any special orders.) If your order reached the shipping department, we will try our best to cancel it before shipping.  Since we we strive for quick delivery please understand that there may be times we are unable to confirm the cancellation.
Returns:  Your complete satisfaction is very important to us. However, due to the fact that the golf items purchased are sent from overseas with multiple handlers, it is very difficult for us to provide you with a 100% money back guarantee.  Please understand this is regarding ALL Tour Spec Golf and Golf to Impress sales.
Returns must take place within 30 days of delivery.  Any items you wish to return must be in the exact condition you received it in with all plastic wraps 100% intact, as well as, all labels and bar codes still in place.
Restocking fee for returned items:  A full inspection of the club returned must be done before you will receive your refund minus a 15% restocking fee.
Shipping costs are non-refundable:  Return shipping is the customer's responsibility.
Return processing takes 1-2 weeks after the item is received for inspection.  We appreciate your patience in this matter.
Product Warranty:
We help you with product warranties.
All original (unaltered/unmodified by customers) clubs sold from Japanese manufacturers are guaranteed and warrantied from any manufacturer defects (length of warranty varies between manufacturers).
However many brands today require that you present the warranty slip attached to your brand new club in the case of a warranty claim.
If your club comes with a slip attached to the grip/shaft or a slip when purchased as heads only please safe keep these slips for warranty purposes.  (Please note: NOT all brands include a warranty slip)
Manufacturers who include a slip are very strict about this slip and will decline warranty service without it regardless of whether you have proof of purchase or not. This is a  new policy among Japanese golf brands in Japan and while we do not agree with it (its simply too strict) we have no choice but to follow it.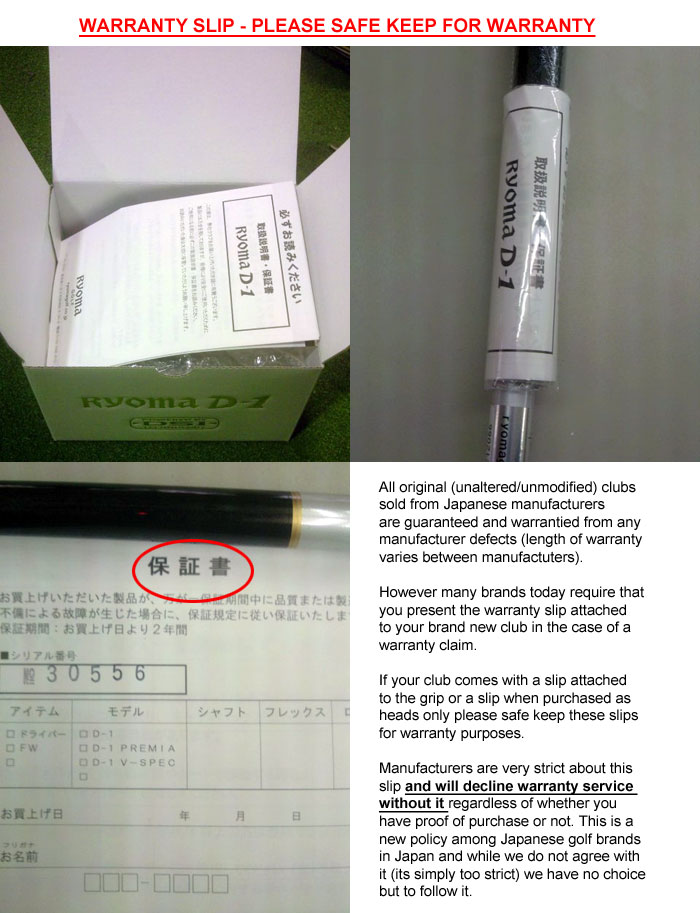 If you still have questions, please visit our contact page below:
http://www.golftoimpress.com/contact