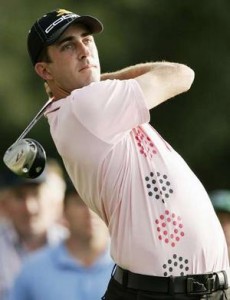 Round 3 at the Memorial Tournament is in full-swing and while we've yet to see the leaders that sat comfortably in the clubhouse after Round 2 tee off, there is a bit of congestion atop the leaderboard, and we're currently seeing a three-way tie for the top spot.  The goodnews is, the lead is still at -7, so those who are still waiting to make a late charge at the lead, still have time to do so.
Tiger Moving, But Moving Slow
Still waiting to make that final push, that final charge, is the man we're all watching and waiting for, Tiger Woods.  He's only on the 9th hole so far in Round 3, but already he's playing better than Round 2, currently sitting at -1 through the first nine holes, and sitting quietly at -2, just 5 strokes off the lead.  Currently at the Memorial, what is traditionally known as "Moving Day" in Round 3, hasn't been moving much at all.  Each golfer, while playing solid golf, has done little to advance their position either up, or down in the leaderboard.
Ogilvy Sets Round 3 Record & Captures Lead
Looking past Tiger Woods, however, will bring you looking directly at one of the best golfer's in the world, and will help to explain why he is that.  Geoff Ogilvy, is apparently a man you can never count out.  After posting a first half score of two-over-par, which as reports mentioned, would have not made the cut in many tournaments, Ogilvy came back out today and absolutely destroyed the course, posting a Round 3 record in his wake.  Not only did the 63 that Ogilvy shot today set that record, it also launched him into the top spot before the co-leaders have teed off.  Impressive?  We think so.
Moving Day Better Start Moving
So it's Moving Day, we're waiting to see a whole lot more moving.  Stay tuned, because that might be exactly what's in store when the Round 2 leaders finally let the drives fly off the first hole.  It's getting good!
Related Posts