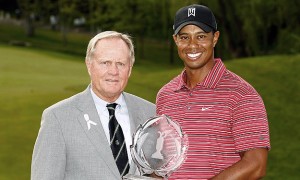 Right when you think Tiger Woods is down and out, having swing problems, rumors of continued knee pain, family acting as a distraction, he goes and does something like this.  Once again, Tiger Woods has adequately proven why he's not only the best golfer in the world, he's the most exciting by a mile.  That's right...Tiger Woods took home the trophy this weekend at the Memorial Tournament in Dublin, Ohio by following up a shaky first two rounds with a dominating 68 in Round 3 and an even more impressive 65 to close out the tournament and take it by a stroke.
Win To Silence U.S. Open Critics
The good news for Tiger is that this win, although it was a close one, can finally silence the critics that have been mumbling and worrying that he's not going to be physically or mentally fit enough to defend his title at the upcoming U.S. Open at Bethpage Black.  Looks like the fact that he's capable of an extremely high-charged comeback and a final round -7 might just be the answer all those critics were looking for.  Watching his play on Sunday told us all one thing:  Tiger is NEVER out.
Tiger Felt Confident
When asked about his play, and his mindset during the final round, Tiger had this to say, according to reports:
"I knew I could do this...I was close to winning, but the game wasn't quite there when I really needed it on Sunday. I rectified that."
The thing that struck us, while watching his final round performance, was he seemed to re-find the accuracy that he'd been missing the past few tournaments.  He hit it where he aimed, he struck it well and at the U.S. Open, that is going to mean everything.
Tiger Is Back?
How will he do at the Open, that remains to be seen.  All we know is it's good to see Tiger playing like Tiger again, and the Sunday fire back into his game.  Now, we really can't wait for the Open.  The countdown has begun.
(Image via Halleran/Getty Images)
Related Posts