A few weeks back I posted imagery of the new X-Drive 709 450cc driver,  We received a few inquiries from customers on the fence between the two heads so I've decided to make a post sharing what a players may notice if they had the two side by side.
We've been testing both of these drivers for over a month now and can say comfortably that these perform in all areas from feel to spin as well as  forgiveness, and trajectory.  You can't go wrong with either one,  both equals so it really only depends on what's most important to you.  If it's setup and look go with the 430,  if you need confidence the 450 is an obvious choice.  They are both almost equally forgiving it just depends on where your misses are.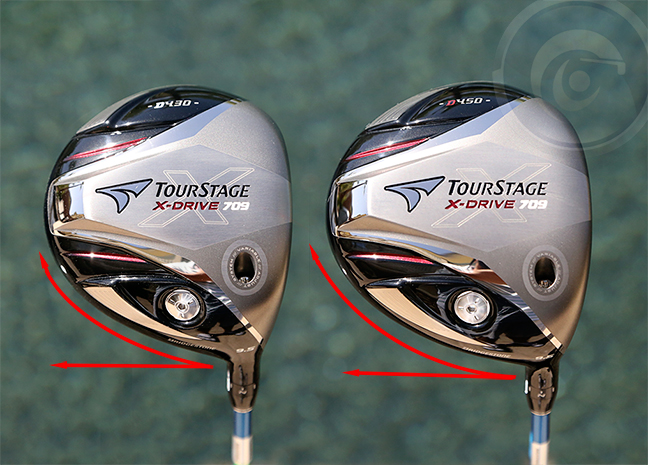 It's obvious they are both closely related and this includes it's shape from most angles, it would be hard to tell the two apart if they weren't side by side.  In the image above It shows how the 450 on the right has an elongated appearance most apparent from this angle.  The 450 extends back further not only heel side like the red lines show but also toe side making for a more rounded look.
When it comes to performance the first major difference is shot shape, the larger head was easier to draw while the smaller easier to fade.  This is because the 430 has neutral internal weighting to promote a straight ball flight while the 450cc has a small draw bias within.  The trajectory in the 450 should be a little higher than the 430 on paper but we didn't notice a big difference in the real.  I'll also note that both drivers were built to the same loft, swing weight, length, and featured the new Graphite Design Tour AD GT-7 in Stiff flex.  Click Read More to continue the comparison...

If you look closely you can see that the toe to heel length is longer on the 450 located on the right side and this caters to players that miss in those areas while the 430 on the left has a deeper face which is geared toward misses high and low of center which is often caused by an improper Tee height,  The deeper face also aids in keeping the trajectory lower.  I think this is the main benefit of owning the 450 over 430.
Both drivers are square,  both setup near perfect, If I could change anything I think I would want the 430cc to be a bit more pear shaped,  they are both so similar I think TS could have just built 1 driver at 440cc instead.   Both perform and feel superb so  it's really a hard decision to make if you had to choose between the two.  Remember that both the new TourStage 709 drivers are adjustable.  The lie angle can be adjusted from 58* to 60* which has been a request from many players seeking a flatter lie but keep in mind in doing this the face angle also changes.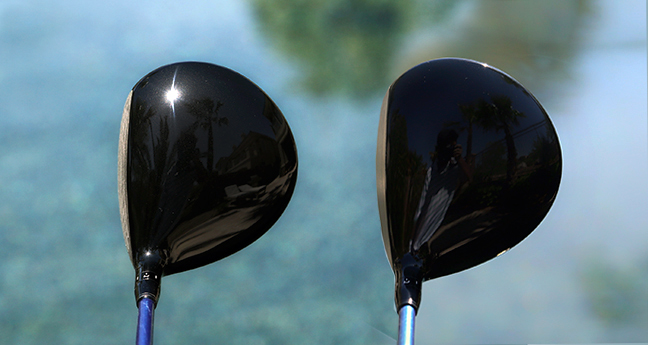 Above the images show just how similar they are.  Both heads look fantastic from above In this regard if I had to choose based on top down appearance the 430cc seems more powerfully proportionate. It isn't exactly pear shaped but its still beautiful to look down at.  Both of these drivers along with all the recently released TourStage Gear is can be accessed by "clicking here".