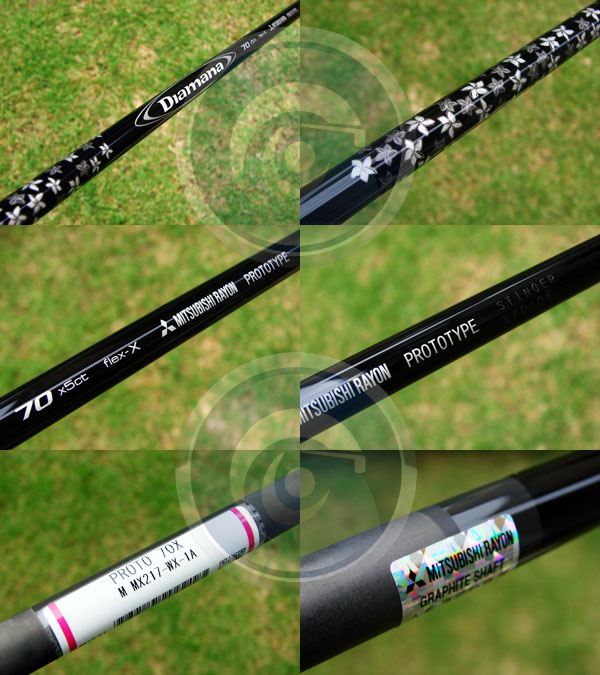 Today a very pretty Diamana box showed up at our Chiba office and in it was the all new Mitsubishi Rayon Diamana Stinger Prototype. This full boron shaft as we reported before is the ultimate in high end materials from Mitsubishi Rayon.  When I first posted about this prototype, we were unsure about the name. While it is still being referred to as "Prototype", the word "STINGER" is engraved on the shaft. This shaft is a beauty, with a jet black gloss like finish it looks like it is all business.
Being able to hold these shafts in my hands, first impression is that they have a very stiff profile. Full Boron is meant to be very firm and stable and that is what the Stinger Prototype feels like.  To recap what I described the shaft as earlier:
This new shaft features a profile and specs just like the new Diamana Kai'li with the difference being the material. Boron is a premium lightweight fiber that is 5 times as strong as steel. It is often used in parts of shaft manufacturing due to its high modulus characteristics to increase strength of a shaft and overall stability. This new Diamana Full Boron Prototype will be all boron creating a shaft that compared to the typical graphite shaft, has thinner walls for feel but is considerably stronger equaling no energy loss and very very tight dispersion.  This new prototype shaft will load and unload without twisting creating very low spin and very accurate drives thanks to its ability to quickly return to its original shape.
This is considered Diamana's most high end premium shaft and is aimed at the tour player. We do have a few in stock so let us know if you are interested!