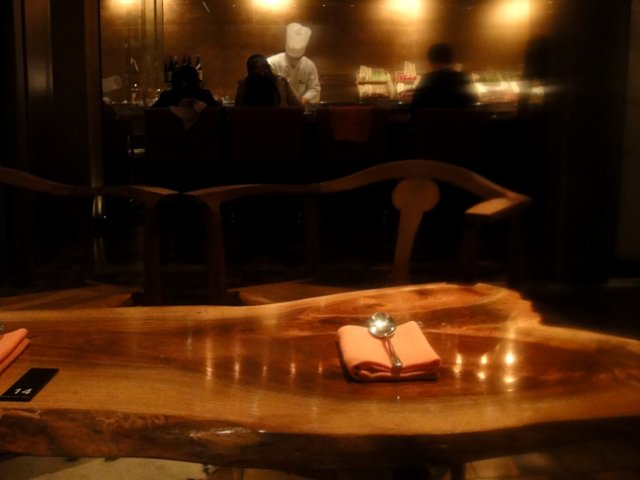 Just a couple of nights ago we had dinner at one of  Tokyo's more popular Teppanyaki restaurants "Keyakizaka" that just happened to be located in our hotel the Grand Hyatt Tokyo Roppongi Hills. TourSpecGirl is a major foodie and collects menu's from Michelin Star restaurants and Keyakizaka had a one star rating so we had to go check it out.
They offer an Ala carte menu as well as full course tasting menu's. I selected the regional Hokuriku winter specialty course while TourSpecGirl went with the premium C menu tasting.
I enjoyed the flavors of Queen crab flan, Himi Yellowtail, Premium Niigata beef sirloin and strawberry flambe with mascarpone ice cream.  Click "Read More" to see the actual images of the food we ate and to hear more about the C menu tasting that was an amazing experience.
The C tasting menu started with a foie gras flan made of crab mushrooms and port wine sauce, then followed by live Sanriku abalone, sea urchin, and Kyoto leek sauce. The next dish was live prawn with garlic, red chili, and premium grade olive oil and the main course was premium Iwate beef sirloin. Following the meat dish was Garlic fried rice, miso soup, and Japanese pickles. For desert they moved us to a special desert only section of the restaurant with an exquisite ambiance to enjoy fruit clafouti and vanilla ice cream.
The drinks were awesome, I'm a beer otaku ( fanatic ) I can't drink American beers or even American import beers and if it's a german beer it better be brought in from Germany by hand carry. Same deal with Japanese beers, people think Sapporo or Asahi is the same in the USA as it is in Japan but read the label most of it's made in Canada and the price is less than half of what it costs in Japan and for a very good reason, it just isn't the same. We tried a beer that was exclusive to Roppongi Hills called Ebisu Super Premium "clear" that was not clear at all in fact it was a fairly dark ale. Good stuff but for 20 USD a glass it sure as heck better be.
Our Teppanyaki chief was also a breath of fresh air, in the states Teppanyaki usually features a lot of show boating and fireworks with very little in terms of quality food preparation or use of delicate ingredients, Our chief who only catered to the two of us was a young 28 years old and able to care for all of the expensive ingredients doing them complete justice. If you are ever in the Roppongi Hills area we highly suggest this restaurant, expect very few Japanese customers and mostly the foreign power broker or hedge fund manager type.
Related Posts