Over the last couple of years TourSpecGolf has been in negotiations with Asahi Golf which own's a label called Kenmochi Golf.  It's official now and TSG will now be offering the product to the english speaking world through the online proshop and our new distribution channels to select accounts. Kenmochi is a popular club grinder who works for and at multiple grind factories and foundries in Himeji, Japan.
The product is priced fairly and the line up is impressive, this year at the 2011 Japan Golf Fair they announced their new adjustable driver, putter, and iron models to the public. The design philosophy is in step with the majority of our customers, manufactured in Japan with thin top lines, little offset, brushed satin finishes with Japanese stampings.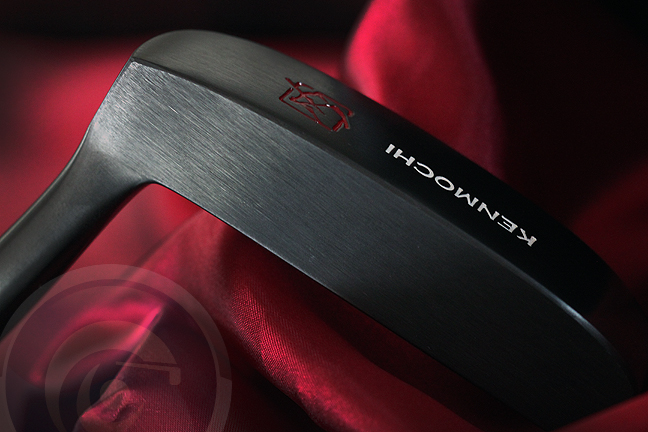 What impresses me is their subtle use of RAW grind techniques and how they keep it to certain areas on the club heads. For wedges it only appears on the lower portion of the back face as well as found on the face of the putter. Yururi Golf made the RAW style famous then later Vega applied a similar style and now Kenmochi Golf has in a different way.  Above is an image I took of the putter, it comes in a fantastic box, as does the New KD-01 adjustable driver.  For the most part it's sold as component but you may order it shafted with custom specs from us.
The total line up includes two drivers the black KD-01 is USGA conforming and the gold tinted model features an Ultra high C.O.R face.  two irons and I should disclose they are open model yet heavily adjusted to feature the favoriate attributes that a better player would request. Two wedge models one in brushed satin the other in black both feature some RAW style accents.  And a limited edition putter.  The Kenmochi KP-01L Putter is what I call OLD SKOOL in design and comes attached to a heavy weighted 160 gram steel putter shaft.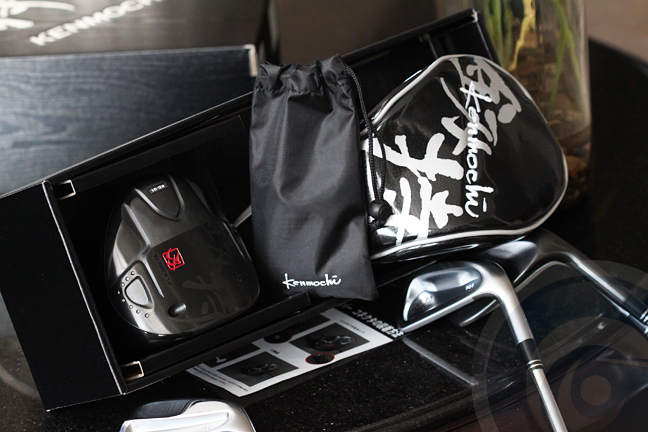 We are putting a review together for the new adjustable driver.  It comes in the box as seen above which includes its head cover and adjustable wrench Kenmochi's KD-01 driver is Made in Japan and features a high grade BT341 Titanium crown and sole.  The Black conforming model features a 6-4 Ti face with a 3.1mm thickness at its sweet spot and the maximum 0.83 COR.
The Gold non-conforming model features a high spring SP700 Ti face with a 2.7mm thickness at its sweet spot and a COR approaching 0.88.  The KD-01 features 8 different head positions and can have the face opened an additional 2.2* or closed an additional 1.5* to help with draws and fades.  The KD-01 is made for all levels of golfers looking for workability coupled with forgiveness and premium distance performance. The KD-01 features a mid shallow face and deep back head for mid to high launch matched with low spin.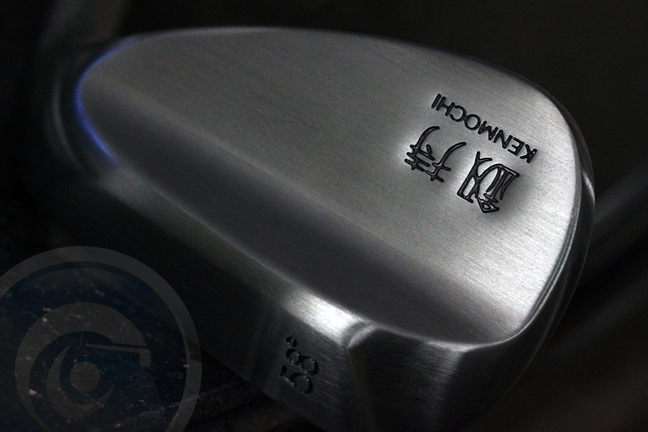 The entire Kenmochi line is currently available as of April 1st 2011 and can be found in the TSG proshop by clicking here.  If you are a Golf store owner or a professional clubmaker with an actual retail store front you may apply for an account to have access to many of our brands including Kenmochi by filling out an application by clicking here: TSG Reseller Program
Related Posts
Yes, i must agree. That putter looks amazing. I don't know if i would play it for just show it off on in my man cave.
Very nice! I love the putter. Now Im torn between what I want more: a Mizuno MP Craft putter or that Kenmochi.
It's all very beautiful stuff, and I was going to spend some money on new equipment from your shop, but I donated a chunk to Japan's relief efforts through Ai. Momoko and Mika's charity thing so I ain't got nothing left. I hope people do the same. If nothing else, I hope people just buy Japanese goods.