There are 4 current driver models in the Epon lineup, the most ever at one time.  In the past, Epon typically had two models, one distance control model aimed at the better golfer and a more forgiving, high launch model aimed at the average golfer.  So with 4 models to choose from, which is the right model for you?
The 4 models are the AF-102, AF-101, AF-151 and EMS and go from more compact and deeper face to shallower profile with larger head in that order.  Epon drivers typically all provide some level of forgiveness making them very playable by all levels however the results ie trajectory and performance will vary depending on the model and the player it is matched with. With the help of Epon, I put together a graphic below illustrating the 4 models and how they compare to each other as well as spin and launch data for the AF-102 and AF-101 which are aimed at the athlete golfers.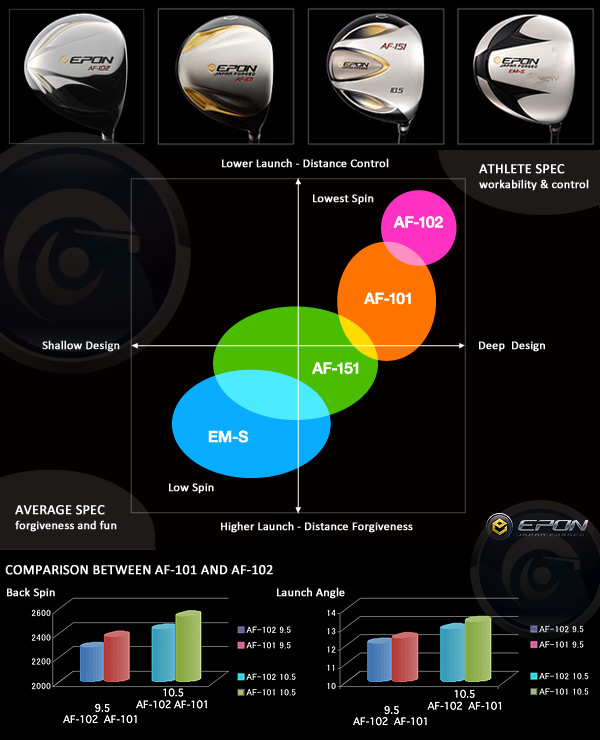 All Epon drivers are considered relatively low spin but the athlete models do spin lower than the others with the AF-102 spinning in the 2200-2400 rpm range depending on loft.  Another key point is CG placement resulting in the trajectory and launch of each driver. The EMS has the deepest and lowest CG resulting in the highest launch. Matched with it's MOI design, the EMS produces optimal carry and forgiveness and is the best pick for the average or recreational golfer needing more launch, more distance and more ease of use.
On the other end of the spectrum is the new AF-102 which features the most compact head, shallowest and highest CG producing the lowest launch and lowest spin. This is for the better player who wants premium feel and control over direction of their driver including a penetrating trajectory with run.
The AF-151 is probably the most balanced model as you can see from the chart above. It spins rather low, offers mid to mid high trajectory and a combination of workability and forgiveness.
All Epon drivers are of course premium forged from the best titanium Endo has to offer which results in great feel. Also keep in mind that choosing the right shaft, since all Epon drivers are custom built, is essential in getting the best possible performance out of your driver and swing.
Related Posts