When you think of Epon Irons think of the AF-302, it's their flagship model designed for the mid to low handicap player.  Made by Endo in Niigata Japan it all starts off with a stick of S20C soft steel then forge pressed multiple times to the perfect hardness rating of HRB80.
I have had quite a few months with these newly released irons and consider these to be more of an evolution of the AF-301, the difference visually is subtle and in the category of performance it is an evolved improvement as well. Epon targets the new AF-302 to the competitive oriented player who desires nothing less than perfect manufacturing and performance.
What Epon has done with Endo is produce a newer version of the 301 with enhanced CG positioning for each loft specifically, Epon has also added some meat thickness behind the sweet spot to improve feel over the previous model. On top of all of that they have some how found a way to lower the CG for a higher trajectory and increase forgiveness.
My test set was built by the factory 4-PW with KB Tour Shafts setup to my specific lie, loft, length, swing weight, and grip size. I went a bit shorter on these irons to allow me to really get aggressive on the downward attack.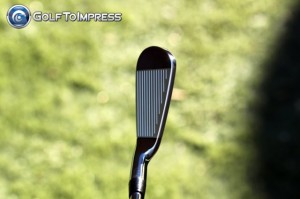 The feel is simply amazing, it's soft and rewarding yet provides just the right amount of feedback to the player. For those of you who are familiar with the 301's I would say these feel10-15% better and to me better equals soft + solid firm. I know those two words contradict each other but that's honestly the best way I can put it. I find the higher lofts more rewarding at impact that 115-120 yd PW shot screams butter, perfectly struck shots feel like the ball melted into the club face.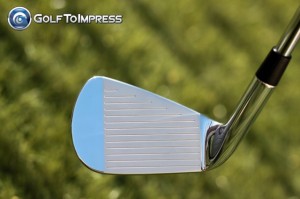 MORE forgiving than the AF-301 and AF-Tour for sure. It's more forgiving than my Yamaha Tour Model Irons, more forgiving than most players cavity backs on the market in the U.S or Japan. It's design is the number one contributor to that attribute but also it's size. While the AF-302 is indeed a players CB it isn't as small or compact when compared to other players models CB's. I would say its a players CB with a little extra added mass in certain areas. Whatever the case it fits a wide range of players and I would suggest it to any decent ball striker with a 12 hcp or under. In my experience its extremely forgiving for it's size, I hit shots on the heel, toe and center and compared to my Yamaha's the 302's take good care of your mistakes.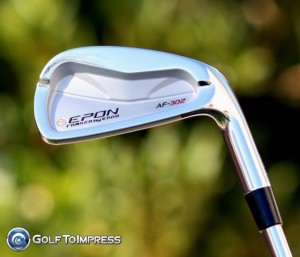 How much do one piece forged irons really vary in distance? It's the same distance I get from the past model and my last 3 gamers when the lofts and shafts are the same. If you need big distance gains I suggest looking into the new 502 Irons or the 701.
In regards to it's workability, I honestly feel it has been reduced by a hair but unless you know Epon irons inside and out you would have a difficult time noticing it. Ill put it all out there, I never thought of the 301 as a very workable iron.  Maybe It just doesn't fit me right to be a workable club. To me a very workable club is the Miura MB5003 or my current Yamaha Tour Irons. With the new 302 I can work the ball using the longer irons much easier than the shorter clubs. I tried very hard to test workability but in the end only the 4 & 5 did what i wanted in regards to working it left to right and right to left.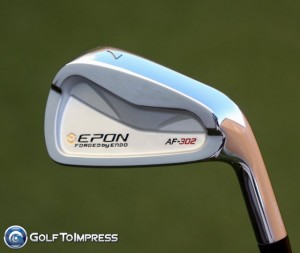 It looks great! A visual improvement over the AF-301 but I would have liked to see an iron that shows a bigger difference than this one does compared to its predecessor. When I think about a customer who already owns the 301's and wants to upgrade that subtle difference may or may not be enough for them to lay down the dollars. Yes as described above it is IMO a superior iron to the previous model but still although it's a totally new original design I just wish it looked more updated. Especially because we had to wait so long for the 301's replacement
There you have it my short but totally honest review.  I love a lot of things about this iron and easily put it in the top 5 cavity backs of all time, That's right of ALL TIME it's got too many pro's to be overooked and it's con's are few and far between. It takes a club snob like myself to spot them out and even my criticisms may not be correct to many. Epon continues to put out astounding product!

Related Posts