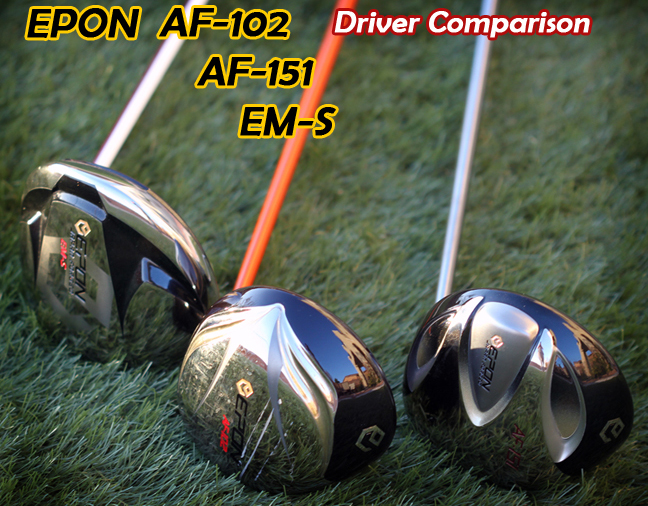 In the last several months Epon Golf has revealed 3 new drivers with the most recent being the AF-102 set to release this month. With all three drivers in my possession I felt like It was my duty to test, compare, and submit my honest opinion to the readers of GolfToImpress & TourSpecGolf.
Ever since the Technity 460 Driver Epon has been known to produce quality above and beyond most other brands. They have a major advantage when it comes to knowledge of manufacturing as their parent company is ENDO mfg. which is arguably the most premium  and #1 golf equipment factory in the world located in Niigata Japan. Known for producing Japan's best forgings it is no surprise that they continue to improve and evolve their line Epon far beyond every one's expectations.
If your interested in reading about what I think of all three of the new Epon drivers and seeing comparison images of their face and crowns click "Read More" below...
I'm going to start with the new EM-S Driver. It's the predecessor to the Epon Monster Beetle aka EMB and a much improved version at that.  When comparing it to the EMB its not as large and obtrusive looking it's actually a design that I almost counted out because of the sound that the EM-B had.  Much to my surprise the EM-S doesn't sound anywhere as loud as the EMB and holds onto much of the forgiveness that the EMB had.
I have a medium trajectory ball flight and the face of the EM-S being shallow really helped me gain extra carry. I hate to say it but of the 3 drivers I will be comparing in this blog post this is the one I SHOULD be playing. Its a higher launching, low spin driver that is extremely forgiving on heel to toe shots. In fact I have not hit another driver that can produce straight long shots off the toe like this one can. Below I have some images of the face and top line.
A couple things did bother me though, I would have liked it not to have the metallic effect in the paint especially on the crown, its subtle and didn't bug me that much but still something I could do without. Another thing is the chrome face, I don't know if this is popular in Japan but most of our customers prefer a brushed metal face.  The last thing is the word "unconscious" on the very rear of the club, a nice EPON engraving would have done the job and I although it doesn't effect performance its not something I think the American golfer understands. I think what Epon means by using this word is that this driver is so damn easy to hit straight and long you dont have to think very much about your drive...
The next driver is the Epon AF-151, This one is something special for sure. It's another one that I should consider because it produces a medium/high trajectory and feels  so pure and far better than any Taylormade & Titleist drivers.
It's produced with Forged Titanium from Japan and it fit's a wide array of golfer from higher handicaps to low.  It's forgiving with a semi deep head and also has a design that expands the sweet spot near the heel side of the face.  Mid handicappers usually miss high, low, and toward the heel.  In my opinion the AF-151's best asset is that you simply won't find another driver that feels this pure with as much forgiveness from any other OEM. With drivers you usually sacrifice one for the other.
Like the EM-S it's 460 cc's and if money is no object to you we definitely suggest it with the Quadra FireExpress 65 80 ton carbon shaft. This is the setup I hit and it produced some of the longest drives of my life. I'm no big hitter by any means but this combo is crazy long. My drives are usually in the 240-250 range and with the FireExpress 65 I added a good 30 yards in distance with this combo.
I don't have any gripes with this driver, liked everything about it. Maybe I would enjoy if the sole wasn't chrome but at this point I am nit picking.
Have a look at the profile pics below...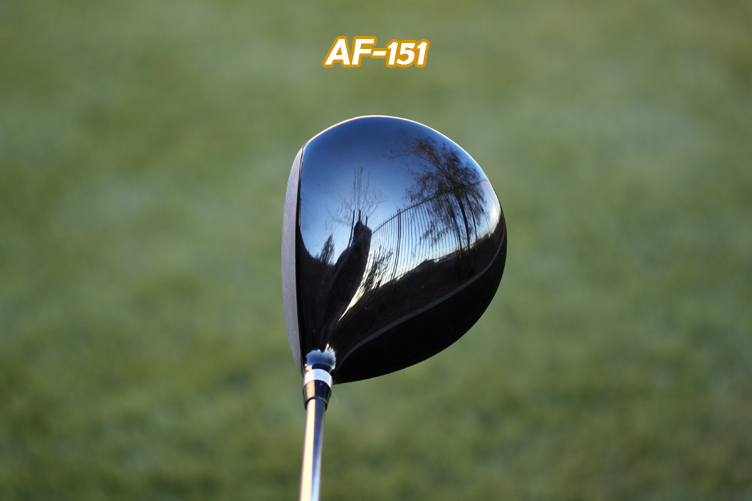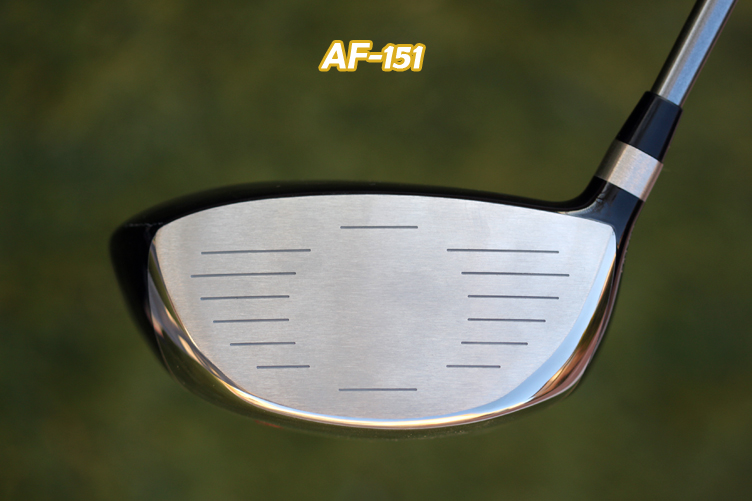 Last in the line up is the soon to be released Epon AF-102 Driver.   Epon is dishing this beauty out with a great stock shaft, well maybe not exactly stock It's the Graphite Design Tour AD DI-6 or DI-7. It serves as a killer setup right out of the box. I selected a 10.5 with an SR flex DI-6 as my sample club and this driver is KING for any purist who desires a pear shape head and most importantly muted feel.  This driver head is all about distance and feel!
It's a 460cc head made of high intensity titanium alloy that is super precision forged at the Endo factory in Japan. It's got a deep face that produces a mid trajectory. Epon claims it has a persimmon like feel be using head deflection and a tapered face thickness. I don't really agree with the persimmon analogy but it is hand's down the best feeling 460cc driver ever to be produced in my opinion.
It's very long, It feels amazing, and it has a design and setup that is simple elegance. I have no gripes about this driver, If your a good player who desires these things It's a MUST HAVE!
Of all three drivers the AF-102 is the one I shouldn't be playing, my game is better off with a higher trajectory that is a bit longer heel to toe. Well who cares! I'm addicted to the feel and shape and am about to order the highest hand picked loft that Epon can possibly find then tune it with the highest launching shaft I can find.
Thanks for reading! I took all these images from the same point and distance so that you can get an accurate idea of their differences. I didn't get into much of the tech talk or their marketing points for it because It all comes down to telling it how it is.
All 3 drivers are really solid, Epon doesn't produce anything that is not quality and not designed well. Now they just need to switch up the wedge and fairway wood for the complete and ultimate line up.
Related Posts